I often made small cables and adapters to make measuring a bit more easy. At some point I started to make them in such a way that I could re-use them and couple them together to save time. I used pins from Lemo connectors but you can use whatever you want.
I used very flexible thin wires and heat shrink tubing. Often 2 or 3 layers for easy grabbing and isolation.
The crocks are very cheap and from Mouser. They have a long but very weal long nose. I modified them to make them stronger and easier to handle. The long beak was enforced with some wire.
And others I modified for better grabbing to wire by shorting the nose and filing a "dent" in it.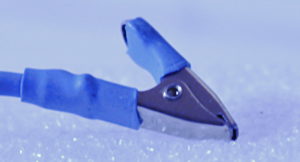 I also made mini probes, here I use a pogo pin. The other side is a lemo . Pogo pins have a spring inside and very sharp tips.
And I also made a set with header pins at the end for easy measuring in female header connectors without damage.
These have a normal 4 mm banana bus and a bigger pogopin
The wires are made in male-male, female-female and female-male and a male to banana bus
BNC to Lemo pins, on top a scope-probe adapter to Lemo pin and top right AMP to Lemo pin
Every time I need something special I make it so it can connect to other kit parts.