Knowledge does not come by itself, beside internet there are curious things named books. They are a good source of knowledge. This is a part of my collection.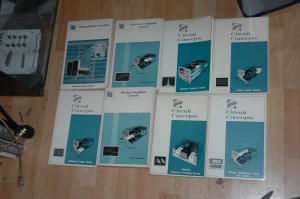 The concepts range from Tektronix, made in the 60's. On the picture a few of them.  I have almost the complete series. PDF's can be found on several locations. Like here
Analog Circuit design van Dobkin en Williams. A nice collection sorted app notes. All can be downloaded but often you do not know which one. This is more easy. I have part one and two Analog Circuits, world class designes, written by experts chosen by the late, but great Bob Pease. Much about opamps and analog design. Not a book for starters.
Here the master himself at work, Jim Williams (April 14, 1948 – June 12, 2011) One of the best Analog designers ever.
The books that are open are from Frederick E. Terman, one of the greatest teachers, the man who teached Hewlett and Packard and motivated them to start a compagnie, the start of silicon valley. On top is the 1955 4th edition of electronic and radio enginering.  The one under is RF measurements (1935). Even today a lot off valuable information about all the real important basics of measurements.
A gift from my dear friend Ken  from the USA. Thanks Ken, it is beautifull.
One of the best allround books is The art of electronics from Horrowitz & Hill
For the VNA junky. For sale at R&S
An other good VNA book is written by Dunsmore: Handbook of Microwave Component Measurements (picture amazon)
Very good stuff AC theory from Knight: free pdf by a great writer, lots of math. www.g3ynh.info/zdocs/AC_theory/AC_theory.pdf
Awsum and very extensive : Analog SEEKrets from Green, free download from this once commercial book.
eevblog.com/files/seekPDF.pdf
very, and I mean very much info on components.
Good info about mearuring LCR from IET labs, the former General Radio, still manufactures of the best LCR quipment.
Primer on LCR measurements
Also from IET Labs:
http://www.ietlabs.com/genrad/experimenters/
http://www.ietlabs.com/genrad_history/papers_application_notes/
This last one is about the history of impedance measurements from the great Henry Hall.
Low level measurements from Keithley:
http://www.keithley.nl/knowledgecenter/knowledgecenter_pdf/LowLevMsHandbk_1.pdf
Another great book of Pease. For the starter in repair and design, lots of info and written in the typical Pease style, so fun to read too. Picture: http://www.rfcafe.com/references/electrical/bob-pease-breadboard.htm
For those who just started and want to get more out of their scope and SA or networkanalyser:
HF-Messungen für den Funkamateur part 1,2 and 3 but Nussbaum wrote more good books. Including one on network analyser basics